Re-size Text:



Your shopping cart is empty!
Sitemap
Contact us
Need help? Call 800-217-0025 - Mon-Thu 7:00am-5:30pm, Fri 7:00am-5:00pm CT
TheraBite® Jaw Motion Rehabilitation System™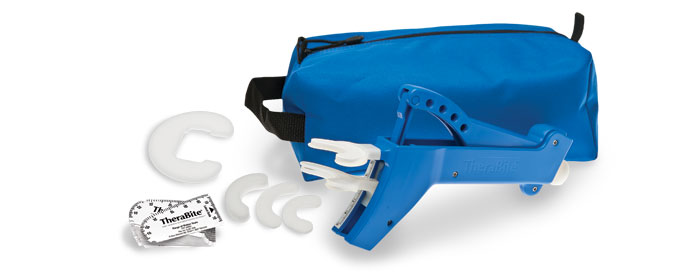 TheraBite® Jaw Rehabilitation System™
For restoring jaw mobility after trismus and mandibular hypomobility.
The TheraBite Jaw Motion Rehabilitation System and TheraBite ActiveBand are clinically proven to be effective in treating trismus and in improving muscle strength and endurance of the muscles of mastication, respectively. Both offer a home rehabilitation program, encouraging continuity and compliance.
The TheraBite Jaw Motion Rehabilitation System is an anatomically correct, effective, portable and user-controlled form of jaw therapy. It is durable, lightweight and available in both adult and pediatric versions.
The TheraBite Jaw Motion Rehabilitation Sytem comes with:
 
Bite Pads

The self-adhesive Bite Pads spead the force across the teeth and can be trimmed for customized protection. The Bite Pads come in adult, pediatric and edentulous (toothless) versions.
Range of Motion Scales

The disposable Range of Motions Scales allow the user and his/her clinician to monitor the progress of the treatment. Includes a Range Setting Arm.


Hand-Aid

The Hand-Aid assists the user in maintaining constant opening during stretching or strengthening programs.
Exercise Log

The daily and monthly Exercise log enables the user and his/her treating clinician to log the daily and monthly progress.
Showing 1 to 7 of 7 (1 Pages)