Re-size Text:




Your shopping cart is empty!
Sitemap
Contact us
Need help? Call 800-217-0025 - Mon-Thu 7:00am-5:30pm, Fri 7:00am-5:00pm CT
TheraBite® Jaw Motion Rehabilitation System™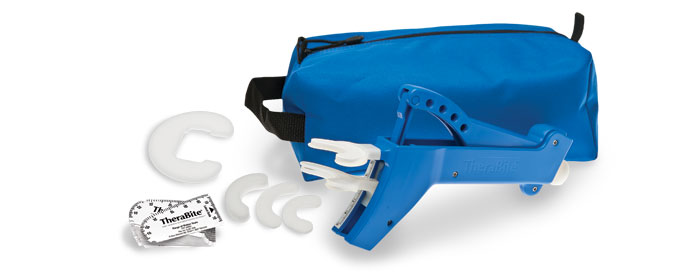 TheraBite® Jaw Rehabilitation System™
Atos Medical offers the TheraBite Jaw Motion Rehabilitation System which utilizes repetitive passive motion and stretching to restore mobility and flexibility of the jaw musculature, associated joints and connective tissues. It is a clinically proven, portable, effective system that is available in Adult and Pediatric versions to help increase the range of motion of the jaw and reduce pain.
The TheraBite Jaw Motion Rehabilitation System consists of several components to meet your treatment objectives:
The TheraBite Device with:
Range Setting Arm

The position of the Range Setting Arm can be adjusted between 25-45 mm and is used to determine maximum opening appropriate to each stage of rehabilitation.
Fine Adjustment Knob

The Fine Adjustment Knob can be used to regulate opening distance if needed.


Bite Pads

The self-adhesive Bite Pads spread the force across the teeth and can be trimmed for customized protection. The Bite Pads come in adult, pediatric and edentulous versions.
Range of Motion Scales

The disposable Range of Motion Scales allow the patient and his/her clinician to monitor progress.


Hand-Aid

The Hand-Aid assists the patient in maintaining constant opening during stretching or strengthening programs as needed.
Patient Progress Log

The daily and monthly Patient Progress Log enables the user and his/her treating clinician to monitor progress.
TheraBite Instructional DVD

This 14-minute film provides useful information on trismus and demonstrates the functions and benefits of the TheraBite system. This DVD is divided into several chapters and features testimonials from a former patient and two clinicians.
Available in English only.
Showing 1 to 7 of 7 (1 Pages)