Re-size Text:



Your shopping cart is empty!
Sitemap
Contact us
Need help? Call 800-217-0025 - Mon-Thu 7:00am-5:30pm, Fri 7:00am-5:00pm CT
Provox® Vega™ Voice Prosthesis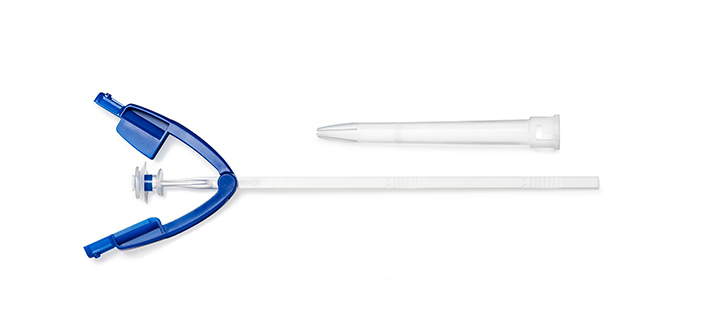 Flexible Insertion System
No two tracheoesophageal punctures are the same. There are variations in the configuration and direction from patient to patient - just as the size and shape of the stoma will differ. In addition, clinicians have different preferences when it comes to the insertion method for the voice prosthesis. The Provox Vega and Provox Vega XtraSeal Insertion System has been developed with all this in mind. It can be used in different ways to address the anatomical variations in the patient and the clinician's preferred method of insertion. 
Creating the ideal fold
The Folding Tool is precision-engineered to create the ideal fold the esophageal flange of the voice prosthesis, for both Provox Vega and Provox Vega XtraSeal.
Adapting to the preferred insertion method
The Insertion System can be used in different ways, depending on the preferred method. It works as a system insertion, a tube insertion, or a capsule insertion.
Intuitive and easy to use
From first opening the packaging, it takes very little time to understand and use the Insertion System.
System Insertion
Good for straightforward punctures that are easily accessible
Slim folding tool can stay in place for easy punctures
Quick procedure
Control over the insertion pin during the entire procedure
Two-handed system for stable insertion
Robuse connection between folding tool and loading tube
Folding tool designed for ergonomic grip
Tube Insertion
Good for punctures that are more difficult to reach
Good for punctures that are angled
Slim devices that gives more room to maneuver
Slim and transparent loading tube for good visibility
Control over the insertion pin during the entire procedure
Easy to overshoot, if necessary
Ideal for Provox Vega XtraSeal, which needs to be overshot
Capsule Insertion
Good for narrow stomas
Good for narrow esophagus
Flexibility to access difficult-to-reach TE punctures
Very slim device with good visibility (insertion pin only)
Flexible insertion pin
Quick capsule loading, no manual folding required
Hygienic folding with TwistLock of the esophageal flange
For use with Provox Vega only
Prescription Required.
Sterile, for single use.
Includes: 1 Provox Vega Voice Prosthesis pre-loaded with 1 Insertion System
Contact your Atos Territory Sales Manager for TwistLock details.