Re-size Text:



Your shopping cart is empty!
Sitemap
Contact us
Need help? Call 800-217-0025 - Mon-Thu 7:00am-5:30pm, Fri 7:00am-5:00pm CT
Provox® Micron HME™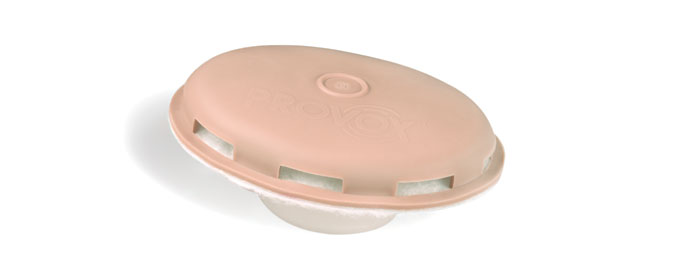 Provox® Micron HME™
Without compromising pulmonary rehabilitation and user friendliness, Atos Medical has combined the proven reliability of the Provox HME with a highly effective electrostatic
filter.
The Provox Micron HME is designed to be worn in front of the tracheostoma and the integral filter helps to filter small airborne particles, e.g. bacteria, viruses, dust and pollen. The HME part of the Provox Micron is clinically proven to improve the airway climate. It is compatible with the Provox System, and can be attached using Provox Adhesive Base plates, a Provox LaryTube or a Provox LaryButton.
Key features:
Based on the original Provox HME cassette

Provides the same HME capabilities as our HiFlow HME cassette
Easy occlusion for voicing
Lateral airflow for discrete use and optimal hygiene

Electrostatic filter material

Bacterial Filtration Efficiency (BFE): ≥99.8%
Virus Filtration Efficiency (VFE): ≥99.8%

Oval shaped and soft outer material
Fits all the attachment devices in the Provox System
Electrostatic filter
Electrostatic air filters are intended to filter particles, which are considered harmful to the pulmonary system. These particles can be of different types, like pollen, street dust and water droplets, which can contain bacteria or viruses.*
* Filtration efficiency depends on size, speed etc of the particles.
Includes: Provox Micron HME Cassettes.
Non sterile, for single use (maximum use 24 hours).
Prescription required.
 

Product Code: 7247 Not only an HME, but also an effective bacteria, virus and dust filter. ..

Product Code: 7248 Not only an HME, but also an effective bacteria, virus and dust filter. ..
Showing 1 to 2 of 2 (1 Pages)